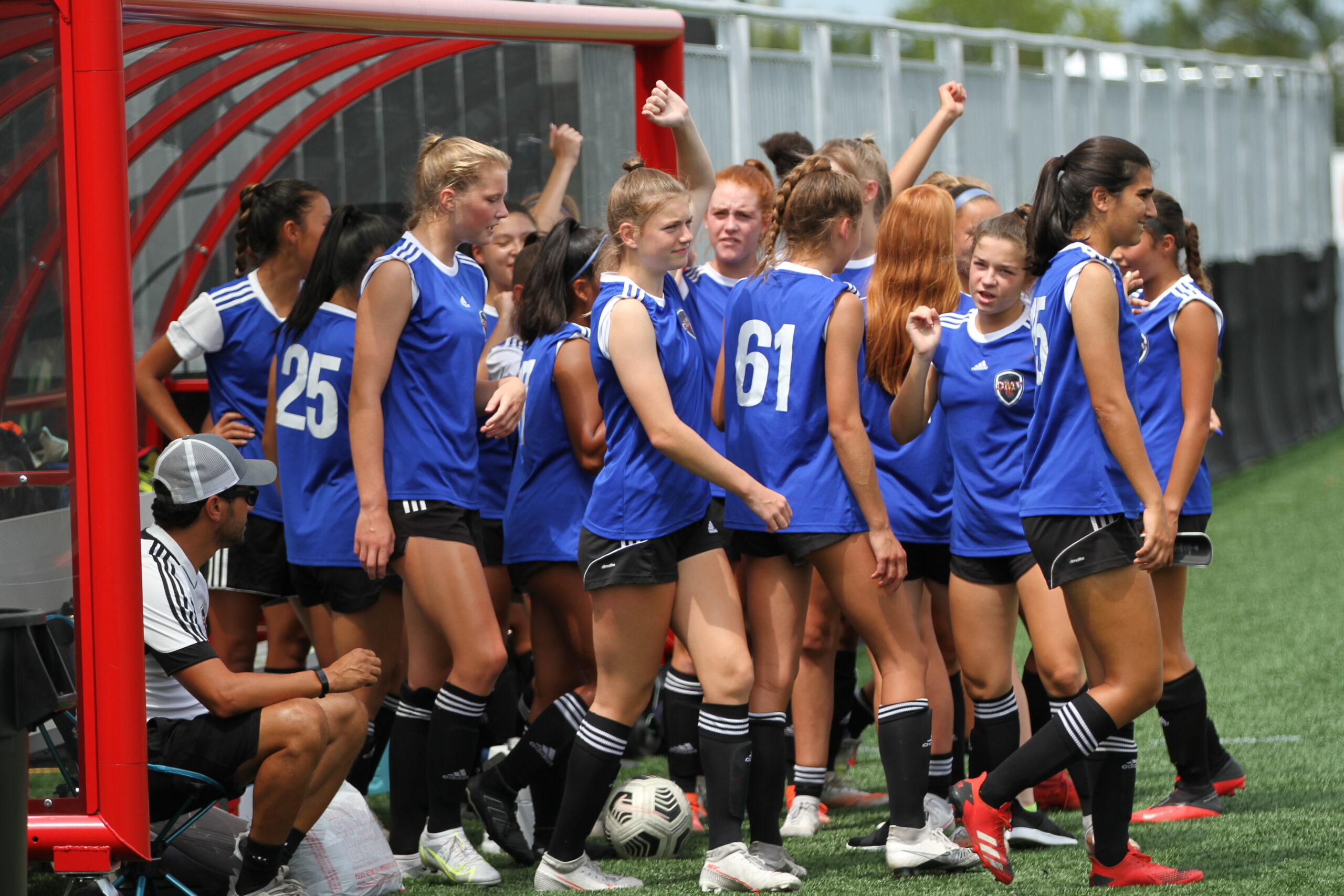 DMV FC travel teams completed their inaugural season this month as a new club. From individual to team successes, it's been a stellar start to our new program and we look forward to continued growth!
Individual Highlights
Ella Valente (04G Crush) committed to Virginia Tech. She's a forward graduating in 2022 who will head down to Blacksburg next fall.

High School soccer awards

Delena Bucaj (Bishop O'Connell) faced Kylie Fischer (Potomac) to win the ISL State Championship. Delena was a captain for the 2021 season. Both play for the 04G Crush.
Program Highlights
Rec program kicked off with their first fall season. Dozens of players in three programs for players 3-9 years old participated in training and games with the DMV FC staff.

Held our first Summerfest kickoff event. It was a great way to begin the club and get to know the community.

Held our annual golf event fundraiser with Total Futbol, raising funds to benefit our scholarship program that covers the cost of travel and rec soccer for athletes in need.
State Cup
Five DMV teams competed in Virginia State Cup play with two girls teams clinching the title and one still in championship contention. This makes the third consecutive U18G Championship for coach Matt Lee and the Total Futbol staff.
06G Lightning Blue (U16G Champions)

05G Force (U18G Champions)

03/04G Crush (U19G Finalists – Final to be played in December)
Tournament Finishes
Loudoun Premier Cup: Aug. 20-22
06G Lightning Blue (Champions)
August Cup: Aug. 27-29
12G Blue (Finalists)

09G Calypso (Finalists)

06G Lightning White (Champions)

03G Hurricanes (Group-2)
OBGC Capital Cup: Sept 4-6
11G Storm (Semi-Finalists)

10G Harlequins (Semi-Finalists)

05G Curve (Semi-Finalists)
WAGS: Oct. 9-11
08G Eclipse (Semi-Finalists)

06G Lightning Blue (Group-2)

03G Crush (Group-1)
Bethesda Showcase: Nov. 12-14
Nation's Capital Cup: Nov. 12-14 (Girls), Nov. 19-21 (Boys)
05B Blue (Champions)

12G Blue (Group T-1)
Columbia Fall Classic: Nov. 19-21
NCFC Showcase: Nov. 19-21
05G Force (Group-1)

03G Crush (Group-1)
League Finishes
Competing in the EDP South Atlantic conference, many of our teams finished high in their age brackets. The club overall had a 46-18-7 record with a goal differential of 177-91.
11 Storm 2-7-0, 19-26

10 Harlequins 6-3-0, 20-10

09 Calypso (U13G Premier III Champions) 6-0-3, 18-3

08 Eclipse (U14G Premier II Red Group-2) 6-2-1, 15-9

06 LW 3-2-0, 14-7

06 LB 3-0-0, 12-0

05 Curve 2-1-2, 11-9

05 Force (U16G Red Group-2) 4-0-0, 16-3

03 Crush 3-0-0, 12-0

03 Hurricanes 2-1-0, 7-5

05B (Blue Group-2) 6-1-0, 19-12 

03B (Blue Group-2)

3-1-1, 14-7